Dr. Ricardo Peralta is proud to present our dental team! Friendly and knowledgeable, our diverse group of dental professionals speak English, Spanish and French. We are open and talkative, creating an environment where our patients feel comfortable and taken care of. Together with our dentist, we look forward to meeting you and offering you amazing dental care in Scripps Ranch, San Diego, California. Call us today at 858-578-0120 to learn more!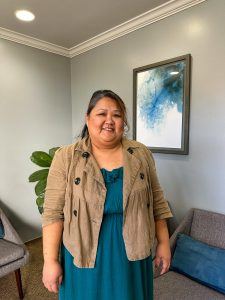 Lynn joined our practice 2023, but she has been in dental office management for 21 years. She loves how this office is very family oriented and how patients have been coming here for over 40 years. She also loves how everyone is so easy to work with, and how we treat each other like family. Lynn helps out office by contributing her skills in time management, being goal oriented and understanding, communicating effectively and learning to ask for help.
Lynn has a 26-year-old daughter and 9-year-old son. She also has a 2-year-old granddaughter and 3-year-old grandson. Outside of work, she loves to cook, spend time with her husband, kids and family. She also enjoys trying new restaurants, watching movies and playing games.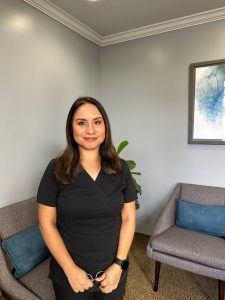 Angella
Registered Dental Hygienist
Angella joined our practice in September 2021. She graduated from Concorde Career College in Garden Grove, California, in October 2012. Angella has been working in dental for the last 35 years and has experience in orthodontics and oral surgery procedures. She loves how at this practice the whole staff works as a team and helps each other out. She also loves the friendships she has made in this office. Angella always brings positive vibes and treats patients and her coworkers with respect. She is married and has two daughters and a dog named Sadie. Angella and her family like to go camping every year, and she also enjoys playing tennis. Her favorite National Park is the Sequoia.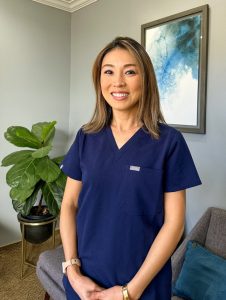 Eri
Registered Dental Hygienist
Eri has over 10 years of dental experience in pediatric and general dentistry, and she joined our office in June 2021. Eri loves that our practice has a positive environment and that everyone in the office is a team player. She contributes to the practice by teaching and creating a stress-free environment for all of her patients. She does so by having a gentle touch and being a reliable resource for them for any information they may need to be successful in achieving optimal oral health.
When not in the office, Eri enjoys the outdoors of San Diego with her husband, Sam; her daughter, Leanna; and her Toy Poodle, Sango. She also enjoys discovering new restaurants and traveling, and she loves fashion.
Moises graduated from UEI College with honors, and he has been in the dental field since 2011. He joined our team in June 2021. He enjoys the flow of our office and how everyone is a team player. Moises always tries to educate the patients and help them understand any questions they might have.
Moises has two boys, Julian and Enrique, and a baby girl, Mia. In his free time, he enjoys fishing, baseball and camping.