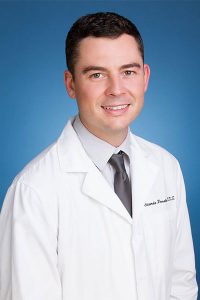 Dr. Ricardo Peralta comes from a family of dentists (mother and brother). He started his dental career at the age of 16, where he was an assistant at his mother's dental practice. As a result, Dr. Peralta followed her footsteps and graduated from dental school in 2010, based in Scripps Ranch, San Diego.
Dr. Peralta takes a minimally invasive approach to dentistry and has taken extensive training in CAMBRA, which focuses on preventive dentistry.
Dr. Peralta passed his fellowship exam with the Academy of General Dentistry and will soon be part of the top 7% of dentists who have reached this honor nationwide.
After being recommended by a peer, Dr. Peralta had the amazing opportunity to move to Silicon Valley and be managing dentist in the Facebook, LinkedIn, Intel and Genentech on-site dental office. While there, he had the opportunity to treat people from all over the world and grow not only as a dentist but as a person.
Dr. Peralta attended a one-year dental implant program while in Silicon Valley. Consequently, he was invited to perform international implant training in 2017.
Dr. Peralta also completed a dental sleep medicine residency at the University of Utah and is a member of the American Academy of Dental Sleep Medicine (AADSM), the only non-profit professional association dedicated exclusively to the practice of dental sleep medicine. Dr. Peralta helps treat snoring and obstructive sleep apnea with oral appliance therapy, an effective treatment that is covered by most medical insurance plans.
Dr. Peralta is a member of the American Dental Association®, the California Dental Association, the Academy of General Dentistry, the American Academy of Dental Sleep Medicine and the Hispanic Dental Association.
Dr. Peralta is fluent in English and Spanish and is competent in French.
During his time off, he enjoys spending time with his friends and family and traveling with his wife.